最近,网上特别流行一个词,chillaxin,好像很多外国朋友都喜欢用这个词表达自己休假时的状态。在msn上遇到了,问一句:"How are you doing?",回答多是:"Fine, just chillaxin!"。那么这个词到底描述的是什么样的一种状态呢?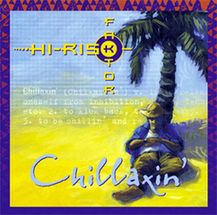 Chillaxin is a portmanteau of chillin' and relaxin', refers to an extreme state of contentedness.
Chillaxin是chillin'(平静)和relaxin'(放松)两个词的合成形式,指一种极度满足的状态。
When we say that you are chillaxin, we mean that you are releasing yourself from inhibition, worry, tension, etc. to kick back, take it easy.
当我们说你在chillaxin(悠然自乐)时,就是说你在让自己远离一切桎梏、担忧和压力,彻底放松以使自己恢复活力,然后轻松面对一切。
For example:
This weekend I took it real easy and was just chillaxin' from Friday night to Sunday night.
这个周末我觉得很自在,从周五晚上到周日晚上都自己悠然自乐。